Fort Worth is the sixteenth largest city in the United States and the fifth largest city in Texas, with more than 800,000 inhabitants. It is part of a conurbation with a population of around 6.5 million, consisting mainly of the metropolis of Dallas and the Fort Worth, some 55 kilometers away, as well as numerous other cities such as Arlington, Irving or Grand Prairie.
Fort Worth
state
Texas
resident
height

216 m

no tourist information on Wikidata:
location

Fort Worth
background
arrival
By plane
the 32,89683-97,038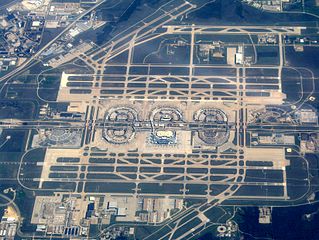 3 Dallas-Forth Worth Airport         (IATA: DFW) (IATA Code: DFW) is one of the largest in the world. Direct flights are available from Frankfurt and Munich, for example. In addition, DFW is the hub of American Airlines and American Eagle airlines, which fly here from almost every airport in the US. Near the airport, there is a train station on the Trinity Railway Express train, which runs at least every hour to 32,7527-97,3264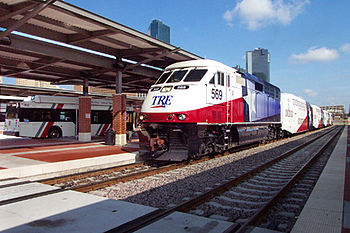 2 Fort Worth Central Station       in the center of Fort Worth (journey time 25 minutes, ticket for 2.50 $).
by train
The American railway company Amtrak provides rail services to Dallas and Fort Worth.
The day and night train Texas Eagle runs once a day from Chicago (journey time almost 24 hours) via St. Louis (17½ hours), Little Rock (10 hours), Texarkana (7½ hours) and Dallas to Fort Worth. In the opposite direction, trains from San Antonio (7 hours) take Austin (4½ hours). Three times a week, there is a direct connection to Los Angeles (journey time of 38 hours), Tucson (28 hours) and El Paso (22 ½ hours). The Heartland Flyer connects Fort Worth with Oklahoma City once a day (journey time of about 4 hours). Early booking is strongly recommended, as tickets without saving are extremely expensive.
From Fort Worth to the sister city of Dallas, the commuter train Trinity Railway Express (TRE) runs every hour (in the morning and half an hour in the afternoon). The journey takes about an hour and costs $5.
By bus
Fort Worth can be reached by bus from Greyhound. There are also a number of private operators providing regular bus services to and from Mexico.
On the street
The entire metropolitan area is covered by countless large and small roads and connected to other regions via the network of interstate highways. Fort Worth is located at Interstate I 35, which runs from Oklahoma City to Austin and San Antonio to the Mexican border and interstates I 20 and I 30.
mobility
sights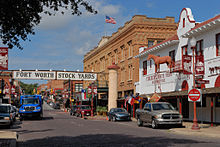 Fort Worth's main attraction is the neighborhood that was built around the former abattoirs and which was 32,788889-97,346667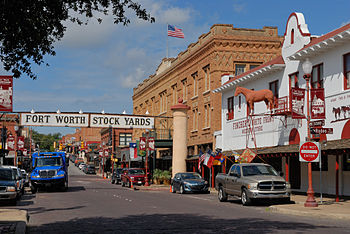 3 stockyards       or This historic district has become the main tourist attraction with its traditional building and cobblestone pavement, its numerous souvenir shops and bars and some other attractions. Twice a day, a small herd of Texas-typical Longhorn cattle is driven through the streets, following the immense past cattle drives. There are plenty of entertainment and live music. The Cowtown Coliseum is also located in this part of the city, where regular Rodeos take place.
activities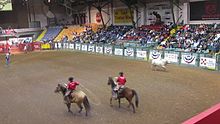 1

Cowtown Coliseum.

Rodeohalle in the Fort Word Stockyards with almost 3,500 seats.

It hosts weekly rodeo events.
purchase
kitchen
nightlife
1

Billy Bob's Texas.

It is called "The World's Largest Honky Tonk" (12,000 m²).

Very large Honky Tonk with several live stages, gastronomy and bars.

To be found at Fort Worth Stockyards.
accommodation
learning
work
safety
health
Practical information